Venice Trail Bike Rental starting from Airport Approach trail-head
Venice Trail bike rental on Venice Island Florida, starts from Airport Approach Road Trailhead. Call 941-412-3821 for additional delivery-locations
We deliver rental bikes to the Venice Bike Trail (AKA Venetian Waterway Park Trail) Airport-Approach Trailhead by 9:30. Confirmed reservations are required before delivery.
Two Ways to Reserve:
Book online by 8:00 PM the day before (use the forms below)
Call us at 941-412-3821 by 3:00 PM the day before your ride
(Same-Day Service may be available for times later than 9:30 AM. Call the bike shop number to inquire.)
Trail Info, The Venice Loop, and some safety tips.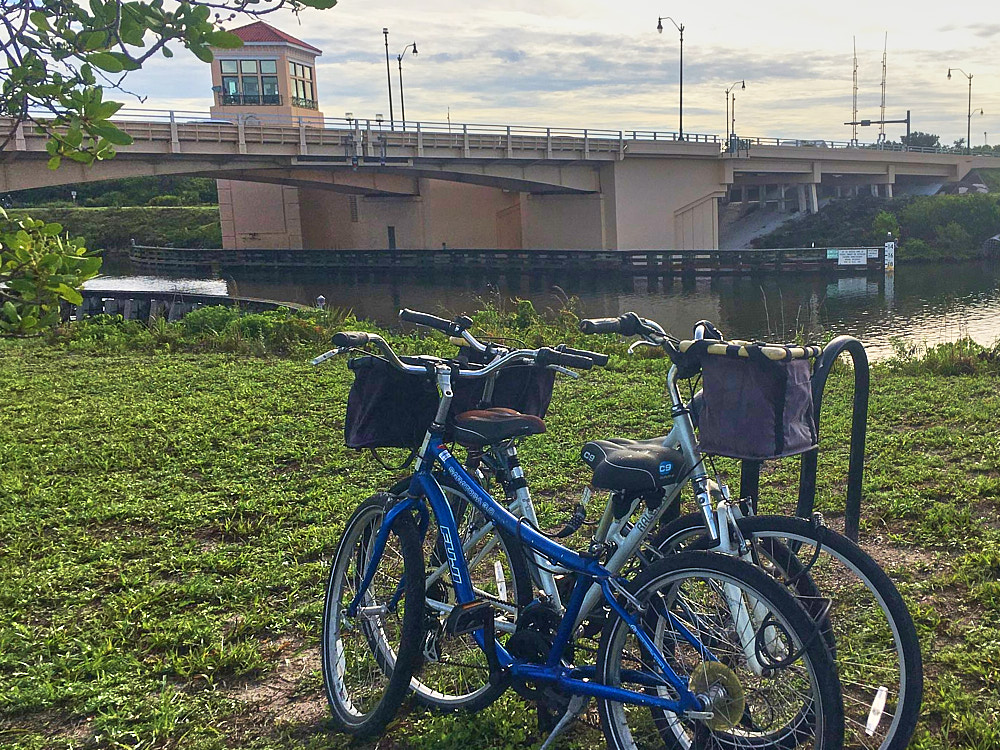 The best known bike trail near Venice Florida is one located in the immediate vicinity of Venice island, and named in-part after the town itself.
The Venice Waterway Trail is basically a double-wide sidewalk on both sides of the Intracoastal Waterway. Hence the name Waterway Trail. 
Where can I go on the Venice Waterway Trail?
Using the island-side of the trail you can reach Caspersen Park and Beach in the south, and Downtown Venice to the north. 
Cross over to the mainland-side via Circus Bridge and you can hang a right (south) towards Shamrock Park, or turn left (north) and pick up The Legacy Trail a couple of miles north. 
And if you can believe it, with all the new construction on The Legacy Trail, one day in the not-too-distant future you will be able to ride all the way from Venice to Downtown Sarasota. It boggles the mind to think of it!
Is there a loop around Venice Island?
Let's clear up a bit of misunderstanding that we hear on a lot of calls from folks new to Venice. The Island-side of the Venice Waterway Trail does not circumnavigate the island. We suspect that this erroneous idea is due to the word-of-mouth descriptions among cyclists about a so-called Venice Loop. 
Among cycling enthusiasts (were talking about road-bike and high-speed recumbent riders here) a loop is simply a way to describe a route through, or around an area using roads. In some cases this could include sections of a bike trail, as is the case with the Venice Waterway Trail. You start at one place, ride out and around and through, and then end up back where you started. 
You can ride a loop around Venice using the trail, but you would also likely be on Harbor Drive, Alhambra Road, The Esplanade, Laguna Drive, Bayshore Drive, and Tampa Avenue, and then back to the trail. Because most of our customers are looking for a casual riding experience (we don't rent roadbikes, anyway) we expect that they are going to mostly stick to the trails, and the low-traffic roads in their neighborhoods. 
An easier loop, one suitable for our adventurous bike rental customers would be to start out at the Airport Approach Road Trailhead on the Venice Waterway Trail. (We deliver there.) Head south to Caspersen Park. Leave the park by heading away from the canal, and head toward Caspersen Beach. The road between the two can be quite sandy, though. So walk your bike through sandy areas. 
Safety Note: A bike with street-tires will come to an instantaneous halt if you ride it into the sand. You should never even ride through a sandy patch that has blown out across the road. You see this alot on harbor Drive going down toward Caspersen Beach along the Gulf.
Continuing with our loop, when you get over to the beach turn right and head north on Harbor Drive. You will be riding in the road, so be mindful of the cars. It sounds worse than it is, actually. Local people see bikes on Harbor Drive all the time. But use extra caution during the tourist season when there are many drivers who are not familiar with that road. 
You will be next to the Gulf but not see too much of it because the dunes are somewhat high. Shortly after passing Sharkey's (on your left) turn right on Airport Road. Some of the condos have a sidewalk that you can use, but the bike lane is safe. 
Safety Note: Act like a car! This means that you should never throw a driver a curve by doing something suddenly with your bike, or otherwise operating in an erratic manner. Pretend that you are a car. In Florida you are entitled by law to 3-feet of any road lane, but don't become an impediment. Allow drivers to anticipate your moves, and always be sure to use the proper hand-signals when in the bike lane. And finally, don't try to argue with a car. "Car always wins. You bump head." 
Back to our loop, and you are in the final stretch. Airport Road will turn into a crushed shell surface. This is not a great surface to ride a bike on. Slow down, use caution, or walk your bike the last 100 feet or so when you are on this road. (Airport Approach Road, in fact.) You should be able to see you car from here, and you are back where you started. Huzzah!
Feel free to loop all you want. Just be sure to rent one of hybrid bikes in order to do so. They are best for longer-distance touring due to the narrower, 85 PSI tires, and 21-speeds. (The higher the tire-pressure, the lower the rolling resistance, which translates into not wasting your energy due to a mushy flat-spot of the tire flexing against the pavement as it goes around and around.)
Otherwise, enjoy our very comfortable 7-Speed Street-Cruiser, with its standard 65 PSI tires. These are great for local riding, and to and from the beach, just not ON the beach. Even though that gorgeous picture of the bike on the beach sure makes us want to go there, our bikes are not equipped for anything other than paved trail, bike-lanes, and sidewalks. We don't have any of those beachy-weachy cruiser-bikes with their aforementioned mushy tires, anyway. They are inherently unsafe, if you ask us. 
Mainland-side info
The mainland section of the Venice Waterway Park Trail starts at Shamrock Park and runs about 4 miles north to the Historic Venice Train Depot, and Legacy Park. The Historic Venice Train Depot (and Legacy Park behind it) is where you can pickup The Legacy Trail and head north toward Sarasota.
'Skip Stasko' Park is about a mile south of Circus Bridge. Skip Stasko Park is one of the nicest parks in the area, with direct access to the section of the Venice Trail just south of Circus Bridge. This is one of our delivery locations for those people looking to ride the Venice Trail on the mainland. (Booking for this park is coming soon.)
Island-side info
The Venice island-side section starts at Caspersen Park and runs a little over 5 miles north toward downtown Venice.  Restrooms, cold-water drinking fountains and plenty of parking is available at Caspersen Park.
Airport Approach Road Trailhead
This bike rental delivery location is a simple crushed-shell parking-lot with about a dozen spaces. There are no restrooms, or drinking water, but both are available down at Caspersen Park. There is a billboard with some information about the trail.
Perhaps the best thing about this particular trailhead location is that it is the nearest one to where we store and maintain the 100-Bike Rental Fleet. This means that on those occasions where a last a last-minute, same-day rental-delivery is needed, it's more likely that we can serve you soonest!
How to Rent a Bike from Venice Bikes & Trikes
We deliver your pre-reserved rental bikes to this location by 9:30 AM. By booking your reservation these bikes are now your bikes, and for your use only. We do not 'stage' bikes in the bike racks for random customers.
CANCELLATION POLICY: To receive a refund for a cancellation you must contact us at least 24 hours before your scheduled delivery. If you wish to cancel and receive a store credit for a future date you must contact us by 3PM the day before your ride. If your bikes are delivered and THEN you wish to cancel, there is no refund, nor any future credit.