Bike Rental and Repair in Venice Florida
We are not your typical bike shop with a showroom of inventory and a huge building-rent to cover. Been there, done that. Instead, we offer MOBILE-ONLY bike rental and repair in VENICE FLORIDA. Serving Venice Beach, Nokomis, Casey Key, Manasota Key, NW Englewood, SW Osprey, and most of Venice. We have competitive rates for bike rentals and repairs and excellent personalized service. Best of all, we come to you. And you get the same great service that you would if you walked into our old shop in the Rialto.
Bike Rental for The Legacy Trail, and the Venice Waterway Trail
Have you heard about The Legacy Trail, or the Venice Waterway Trail? No? Been living under a rock? Been stuck indoors for a year? (Wait. Nevermind that last part.)
Riding The Legacy Trail, and the Venice Waterway Trail is one of the best outdoor things to do in Venice Florida! We deliver rental bikes in Venice Florida to two trail-heads:
Legacy Park on The Legacy Trail

Airport Approach Road Trailhead
Online booking is available for self-guided Day Tours, or you can call us to reserve. Includes free delivery, lock, and helmet and basket if requested. Your bikes are delivered and locked up and awaiting your arrival. Expect a text with some simple instructions, and a picture when it happens.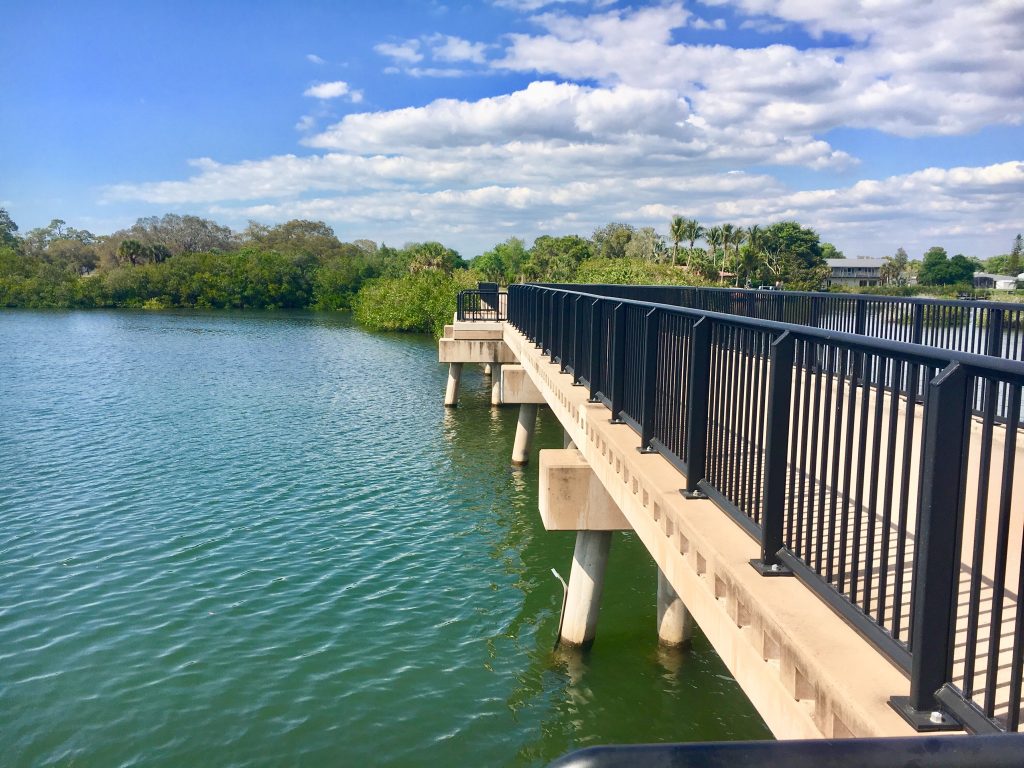 OVERNIGHT RENTALS BY THE DAY, WEEK, OR MONTH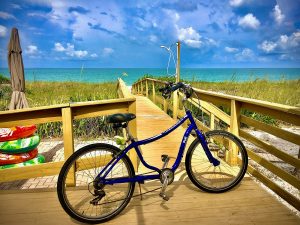 Get your bike rentals in Venice Florida by the day, week, or month. Free-delivery. Lock, and helmet and basket included. We deliver on the morning of the first day of rental, and pickup in the morning of the day after your last day of rental.
Long before Covid struck we did what we called the unattended delivery method. We drop off your rental bikes to your home,  vacation-rental, hotel, or trailhead. After delivery we will send you a text with picture showing your bikes. The idea is to get bikes delivered (or repairs picked up) without also having to take up a lot of your time in-person. If you pay by credit-card for a bike-rental there is no reason for you to hang around and wait for us. We'll get them there ASAP.
Sometimes there are exceptions to the unattended delivery method. When we deliver an adult trike or recumbent we need to adjust the seat and handlebars to fit the rider. Also, when you rent a trailer for attachment to your own bike we may need to meet with you. In these cases we will be sure to wear our masks.
We are professional bike mechanics. We offer free delivery of bike rentals in Venice Florida. Also serving Venice Beach, Nokomis, SW Osprey, Manasota Key and Casey Key. We maintain a large fleet of rental bikes. Keeping yours in good shape is no problem. Flats and other simple repairs performed onsite at your location. For more complex repairs we take your bike to the shop where we keep the fleet, and return it to you when done. Call us to schedule your onsite repair appointment. We can often serve you the same day. Or we can schedule an appointment for a future date and time that is convenient to you. (941) 412-3821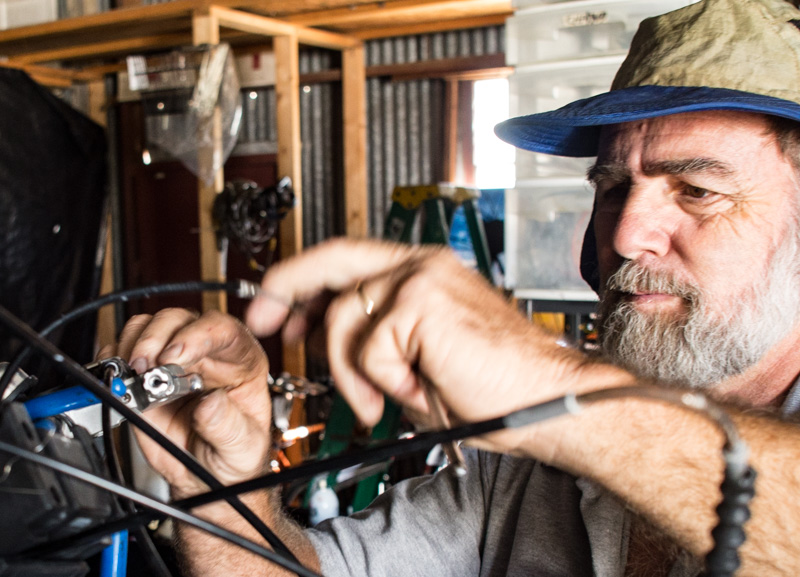 Our Business Model
We have offered bike rental and repair in Venice Florida for a long time. Many of our customers can recall when we were back in the old Rialto Shopping Center. Those were the good old days. You had three mechanics at your service and you could get a flat fixed in about five minutes while you waited. These days we've taken the idea of 'no-waiting' to another level. Now we do everything by mobile. Free-delivery and pickup on the rentals. Mobile repair service performed right at your door.
Our Customer Service Goal
We miss that big old building, but we still get up every day and set out to prove that we are the best possible bike rental and repair experience that you can get. Our rental-rates have stayed the same for many years. And our shop labor-rates haven't changed either. We keep our prices competitive even in a booming market because offering economy to our customers is a matter of principle.
Our Rental Bikes
We are bike experts and maintain our own bike rental fleet. We check and test-ride each bike before delivery to you. Our bikes are clean and dependable, and made of aluminum so that they are strong and light.  No big-box store disposable-bikes, or single-speeds in our rental fleet. All of our bikes have speeds, and you'll be glad they do; "We don't have hills, but we do have wind!"
Choose from Comfort-Cruisers, Hybrids, Adult Trikes, 20 and 24-inch Kids Bikes, and Recumbents. (All bikes are equipped with street-tires and are intended to be used on hard surfaces, such as sidewalks, bike lanes, and the two paved trails in the Venice area.)
Serving bike rental and repair to Venice Beach, Nokomis, Casey Key, Manasota Key, SW Osprey, NW Englewood, and most of Venice Florida.
Book Bike Rentals in Venice Florida by Phone
We are happy to take your reservation over the phone, and answer any questions you have. CALL US!