Bike Repair in Venice Florida
Same-Day Service available in many cases. Call: 941-412-3821
Onsite Repairs: 9AM to Noon
(Call to schedule)
We are a mobile company offering bike repair in Venice Florida, Venice Beach, Nokomis, Casey Key, Manasota Key, SW Osprey, NW Englewood.
Basic repairs include such things as fixing flats, replacing tires, adjusting brakes, and replacing shifters and cables. These things are usually performed onsite at your location.
Bikes that require more extensive attention, or otherwise can't easily be worked on at your location due to time constraints, get transported back to the bike shop at no charge. Many jobs can be returned by the next day.
For example, bikes with broken spokes, bent derailleurs, and those bikes getting their yearly safety check-over are best transported to the repair facility where we store our large rental fleet.
To Schedule an appointment call us at: 941-412-3821
Adult Trike and bike assembly
We assemble bikes and trikes from the box. This popular option is for people who have purchased bikes or trikes online and had them shipped to their address. This has become especially practical for people due to the Covid-19 issues. 
For many bike shops it is quite difficult to get bulk-orders of new bikes and trikes from manufacturers. However, we have heard good reports from our customers who are shopping for adult trikes online.
Of course, there is no substitute for an expert sales-person, but if you are just starting out in the trike-game you can always rent one from us to see if it's your cup of tea. Generally, the standard adult trike form-factor features one wheel in front, and two wheels in back. Once you've ridden one you've got a pretty good idea how they handle.
Those folks who are looking to get an adult trike might want to have a look at at the Schwinn Meridian on Amazon. Place your order online and have the trike shipped to your address. When the trike arrives call us to arrange an appointment for pickup. We'll bring it back to the same facility where we maintain our 100-bike rental-fleet and do bike repair in Venice Florida.
An expert mechanic will assembly your trike. When we're done (usually by the next day) we'll give you a call to arrange a time for delivery. The rider of the trike will need to be present so that we can adjust the seat and handlebars for a proper fit. 
Adult Trike Assembly Fee is $95.
Off Season Bike Storage in Venice Florida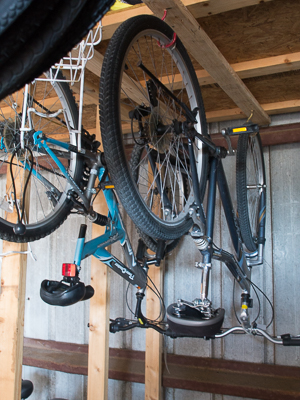 Many of our customers have homes here in the Venice, Nokomis, Englewood area, and a main residence elsewhere. And while their northern home has plenty of room for bike storage, their vacation home does not. We love for people to rent bikes from us, but sometimes renting for longer than a couple of weeks is not practical. Wouldn't it be great to have your own bike (or a second-bike) down here in Florida?
At Venice Bikes and Trikes we offer off-season bike storage in Venice Florida for our customers who don't have a place to store their bike while they are away. When you are ready to depart after the Season is over we will come pick up your bike. When you return we'll give your bike a free checkover and a good cleaning, and deliver your bike back to you. You'll be ready for another season!
For any period from six months to a year our fixed storage rate is $150. Each bike receives a free check-over (a $40 value, not including parts needed). (Call us to inquire about storage periods shorter than six months.)
To schedule a pickup for off-season storage of your bike call 941-412-3821.
To schedule a pickup, or inqure about storage call us at: 941-412-3821