Bike Repair in Venice Florida
Same-Day Service available in many cases by calling us at 941-412-3821. 
Our In-Season phone-hours (December through April) are between 9AM and 5PM.
Our Off-Season phone-hours (May through November) are between 9AM and 3PM.
We are a mobile company offering bike repair in Venice Florida, Venice Beach, Nokomis, Casey Key, Manasota Key, SW Osprey, NW Englewood.
Basic repairs include such things as fixing flats, replacing tires, adjusting brakes, and replacing shifters and cables are usually performed onsite at your location.
Bikes that require more extensive attention, or otherwise can't easily be worked on at your location due to time constraints, get transported back to the bike shop at no charge. Many jobs can be returned by the next day.
For example, bikes with broken spokes, bent derailleurs, and those bikes getting their yearly safety check-over are best transported to the repair facility where we store our large rental fleet.
We can also assemble bikes and trikes for you from the box. This popular option is for people who have purchased bikes or trikes online and had them shipped to their address. 
Call us to make an appointment to pickup the shipment at your location, take it to our shop, and assemble it. Turn-around is usually just one day in most cases.
To Schedule an appointment call us at: 941-412-3821
Off Season Bike Storage in Venice Florida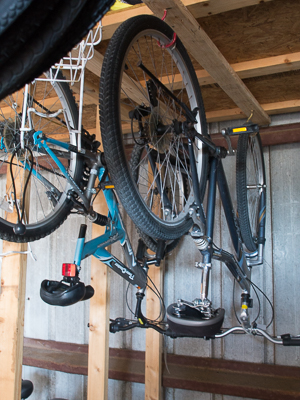 Many of our customers have homes here in the Venice, Nokomis, Englewood area, and a main residence elsewhere. And while their northern home has plenty of room for bike storage, their vacation home does not. We love for people to rent bikes from us, but sometimes renting for longer than a couple of weeks is not practical. Wouldn't it be great to have your own bike (or a second-bike) down here in Florida?
At Venice Bikes and Trikes we offer off-season bike storage in Venice Florida for our customers who don't have a place to store their bike while they are away. When you are ready to depart after the Season is over we will come pick up your bike. When you return we'll give your bike a free checkover and a good cleaning, and deliver your bike back to you. You'll be ready for another season!
For any period from six months to a year our fixed storage rate is $150. Each bike receives a free check-over (a $40 value, not including parts needed). (Call us to inquire about storage periods shorter than six months.)
To schedule a pickup for off-season storage of your bike call 941-412-3821.
To schedule a pickup, or inqure about storage call us at: 941-412-3821