Bike Rental and Repair in Venice Florida
MOBILE-ONLY bike rental and repair in VENICE FLORIDA. Serving Venice Beach, Nokomis, Casey Key, Manasota Key, NW Englewood, SW Osprey, and most of Venice.
Excellent personalized service, and competitive rates for bike rentals and repairs. Use the red BOOK RENTALS button to check our rates. Best of all, we come to you.
We rent adult bikes and trikes, 2-wheeled, and 3-wheeled recumbents, and child-trailers. Bike locks, and helmets and baskets are included if desired.
Free delivery and pickup if you are in our service-area. Check the Service-Area (map) button at the top of the page.
Rent bikes for overnight by the Day/Week/Month
Overnight Rentals
An Overnight Rental is any rental period from one day up to 31 days. Bikes are delivered in our SERVICE AREA (map) in the morning of your first rental date between 9AM and Noon, and are picked up on the morning _after_ your last full day of rental. There is no set delivery-time. We get them to you ASAP.
Call the Reservations Line at 941-412-3821 daily between 9AM and 3PM if you wish to book over the phone.
In-Season, versus Off-Season
The "Season" in the greater Venice Florida area is generally from mid-November to mid-April. During that time Same-Day Service may not be available. Book your bike rentals well in advance to insure availability.
Cancellation Policy:
A full refund is available if we are notified 24-hours before the morning of your delivery date.  A store credit is available if you notify us by 6PM the night before your delivery-date. You can do this by voicemail. No refund or store-credit if you cancel after the bikes have been delivered.
Rent bikes for the two local trails (Legacy,Trail, and Venice Waterway Trail)
Both of the local trails can be accessed from Legacy Park.
The Legacy Trail is at the north end of the Legacy Park parking lot. From the vicinity of the main restroom-building in the middle of the park look in the opposite direction of the park entrance and you will find the Legacy Trail access-point to the north. From that trailhead a very short section of the trail also heads south beside the train depot, and ends before you get to the boat-ramp road. From there you can also see the entrance to the Venice Trail access-point under the bridge.
The Venice Waterway Trail access is under the Venice Avenue Bridge, near the street-entrance to the old Historic Venice Train Depot. From the bike-racks by the main restroom-building in the middle of the park, look across the boat-ramp road and you will see the access-point under the bridge, near the end of the train depot closest to the road.
Mobile Bike Repair Service
We are a mobile service-company, and offer onsite bike repair service in Venice Florida. Also serving Venice Beach, Nokomis, SW Osprey, Manasota Key and Casey Key. We maintain a large fleet of rental bikes. Keeping yours in good shape is no problem.
Flats and other simple repairs performed onsite at your location. For more complex bicycle repairs we take your bike to the shop where we keep the bike rental fleet, and return it to you when done.
Call us to schedule your onsite bike repair appointment. We can often serve you the same day, but during the Season (November thru April) call us to schedule an appointment for a future date and time that is convenient to you. (941) 412-3821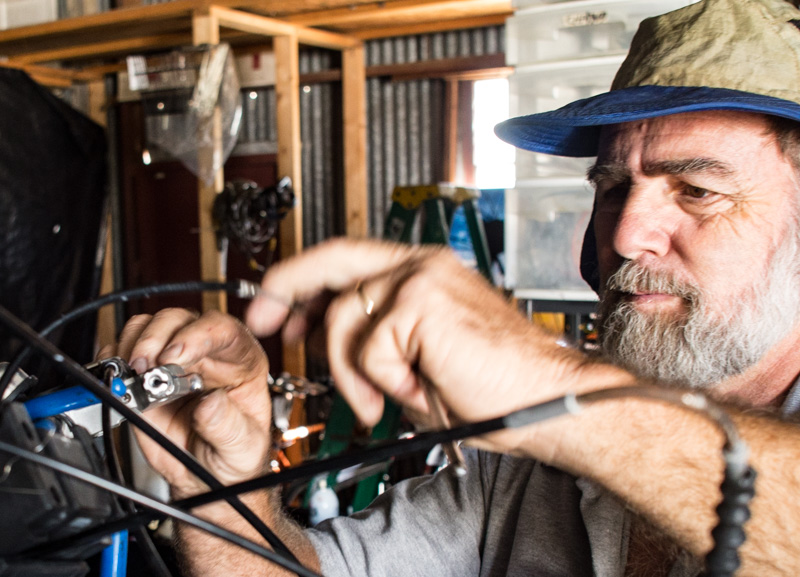 Our Business Model
We have offered bike rental and repair in Venice Florida for a long time. Many of our customers can recall when we were back in the old Rialto Shopping Center. Those were the good old days. You had three mechanics at your service and you could get a flat fixed in about five minutes while you waited. These days we've taken the idea of 'no-waiting' to another level. Now we do everything by mobile. Free-delivery and pickup on the rentals. Mobile repair service performed right at your door.
Our Customer Service Goal
We miss that big old building, but we still get up every day and set out to prove that we are the best possible bike rental and repair experience that you can get. Our rental-rates have stayed the same for many years. And our shop labor-rates haven't changed either. We keep our prices competitive even in a downward market because offering economy to our customers is a matter of principle.
Our Rental Bikes
We are bike experts and maintain our own bike rental fleet. We check and test-ride each bike before delivery to you. Our bikes are clean and dependable, and made of aluminum so that they are strong and light.  No big-box store disposable-bikes, or single-speeds in our rental fleet. All of our bikes have speeds, and you'll be glad they do; "We don't have hills, but we do have wind!"
Choose from Comfort-Cruisers, Hybrids, Adult Trikes, 20 and 24-inch Kids Bikes, and Recumbents. (All bikes are equipped with street-tires and are intended to be used on hard surfaces, such as sidewalks, bike lanes, and the two paved trails in the Venice area.)
Serving bike rental and repair to Venice Beach, Nokomis, Casey Key, Manasota Key, SW Osprey, NW Englewood, and most of Venice Florida.
Book Bike Rentals in Venice Florida by Phone
We are happy to take your reservation over the phone, and answer any questions you have. CALL US!
To receive a refund for a cancellation you must contact us by at least 24 hours before your scheduled delivery. If you wish to cancel and receive a store credit for a future date you must contact us by 3PM the day before your ride. If your bikes are delivered and THEN you wish to cancel, there is no refund, nor any future credit.
If you book a rental for delivery that is outside of our free-delivery area we will contact you as soon as possible to advise you of cancellation and refund, or to make arrangement to possibly rendezvous at a closer location.