Getting to Shamrock Park by Car
We often recommend this starting location to our customers who are coming to the area from points south of Venice. If you are coming from points north of Venice Oscar Scherer Park is a better starting point that will save you some driving.)
It's not too difficult to get to the park from I-75, but there are several turns. Generally trusting your GPS reckoning should get you there. 
Coming from the south, take Exit-191 (River Road), and Turn Left under the Interstate. Pass Venice Avenue, and Turn Right on Center Road. At US Hiway 41 Turn Left and go about half a mile. Turn Right on Shamrock Drive. Go two miles and Turn Right into the park. Upon arrival at the entrance to the park drive all the way in and pick a spot anywhere near the big building.
Use the map below for more accurate routing.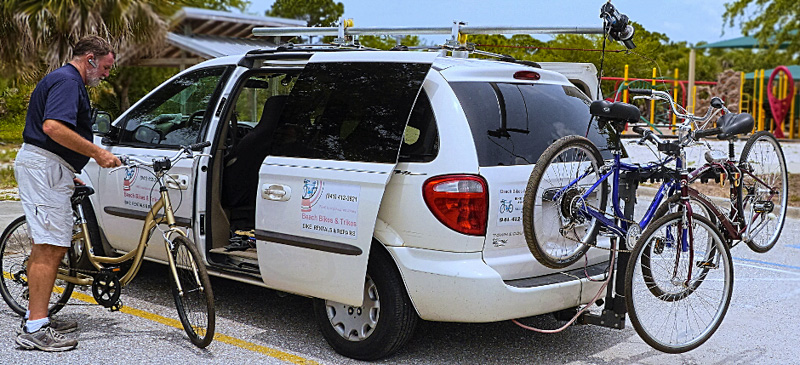 Riding from Shamrock Park to The Legacy Trail. 
Many of our bike rental customers like to extend their ride by including the Venice Trail with The Legacy Trail. Both of these sections are on the mainland-side of the Intracoastal Waterway in Venice. To reach The Legacy Trail from Shamrock Park follow the Venice Trail north for approximately four miles. (The waterway will be on your left as you head north.) The junction point of the two trails is at the Historic Venice Train Station. Likewise, from anywhere on The Legacy Trail you can bicycle to Shamrock Park simply by pedaling south.