Legacy Trail Bike Rental starting at Oscar Scherer Park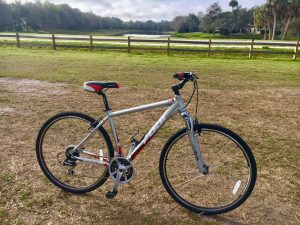 About Oscar Scherer Park
Oscar Scherer Park is a part of the Florida State Park System. It includes RV parking, campsites, restrooms, cold-water drinking fountains, and several rustic walking-trails. A security-gate is locked from public-access at night.
Entrance to this park is at 1843 Tamiami Trail S. Osprey, FL. (MAP) 
Admission to the park is $5 per car.
If you are coming to the area from Sarasota, Osprey, Siesta Key or points north 
and are 
looking to rent a bike to ride The Legacy Trail consider starting from Oscar Scherer Park.
Accessing The Legacy Trail
The park property straddles a section of the local 12-mile long Legacy Trail. Easy access to the trail is at the end of the main park-road. From the park more of the trail extends south toward Venice. 
A popular activity is to rent bikes and take a self-guided day-tour on the Legacy Trail. We deliver bikes to the park by 10:00 AM.
Exit the park on to the Legacy Trail and head south toward the Historic Venice Train Depot. There you can pick up the Venice Waterway Park Trail toward Shamrock Park. Park-to-park and back is about 20 miles round-trip, and a fun day by all accounts. Bring a picnic lunch, or depart slightly from the trail when you get to Venice.
Some scenic features on The Legacy Trail include crossing Donna Bay, and Roberts Bay, the US Hiway 41 Pedestrian Bridge, and views of the Intracoastal Waterway once you get to Venice.
Rent a Bike at Oscar Scherer Park to ride the local trails.
We deliver rental bikes to Oscar Scherer Park by 10:00 AM for people looking to ride the trails. Online reservations are required by 8:00 PM the night before your ride. Or by calling the reservations-line by 6:00 PM the day before.
After passing the entrance-gate and the ranger-station proceed all the way to the end of the road. Ample parking is available. We deliver to this park by 10:00 AM.
Use this booking app to reserve your bikes for self-guided day-rides on The Legacy Trail starting from Oscar Scherer Park